Booktrust launch campaign to boost dads reading to children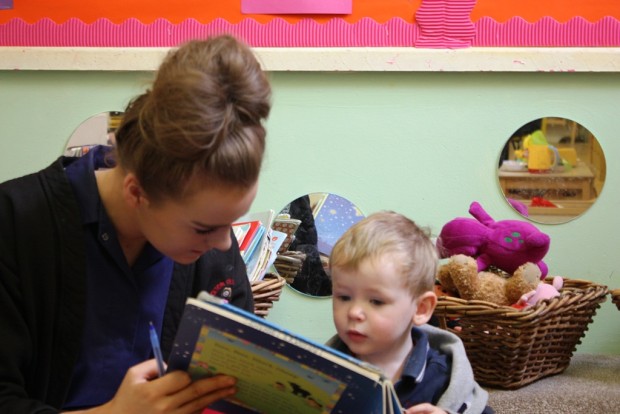 At our Liverpool Day Nursery we understand the importance of encouragement and participation in a child's development.
A major new campaign 'Get Dads Reading' has been launched, after a poll carried out for Booktrust revealed only one in eight fathers take the lead on reading to their children.
The campaign aims to raise awareness of the importance for dads to be active reading role models.
Research revealed that 43 per cent of mums read to their child every day in comparison to just 26 per cent of dads.
The launch was attended by patron HRH The Duchess of Cornwall and bestselling author James Patterson who visited a thriving dads reading group to champion reading amongst fathers.
Among other reasons, fathers blamed being too tired or not having enough time to read, with 25 per cent attributing working late for their lack of involvement in their children's reading.
Viv Bird, Booktrust's chief executive commented on the research saying: "The most crucial thing for dads to understand is that if kids see their dads reading they're more likely to enjoy it themselves. There is evidence that boys are slipping further behind girls in reading – and this emphasises how important it is that dads are positive role models to their sons as well as their daughters when it comes to reading."
It has been proven that a father's involvement in their child's early reading can boost academic success, resulting in improved social and emotional wellbeing. The campaign aims to enhance the involvement dads have in reading to combat the issues revealed from the research.
Writer and father James Patterson started writing for children in 2005 to encourage his son to read and has developed his own website ReadKiddoRead to help dads to read with their children.
He said: "If we can get children reading and enjoying books, we open up a whole world of possibility to them. I believe that dads have a huge role to play in encouraging their children to read. We need to give fathers the support they need in reading to their children. If I can help dads to understand their role in making books and reading more important in children's lives, I'll be a happy man"
Independent reading and writing charity Booktrust makes a positive contribution to the educational outcomes of children, and work with people of all ages and abilities to give them confidence to make choices about reading. After research revealed that only 10 per cent of parents attending formal literacy events are fathers, the charity have called on a host of celebrity dads to come forward to lend their support to the campaign.
Fathers will be given special access to resources and guidance to help them to make the most out of reading for their children.